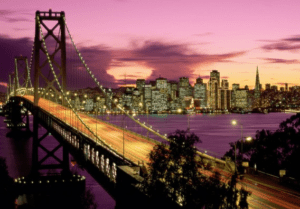 CNN Money picked 6 new ventures from TechCrunch Disrupt for us to watch and maybe use in our small businesses. It is almost a given that the door for new advertising platforms is found in some of them.
1. Qwiki – A Palo Alto company that managed to raise $1.5 million in venture capital and won first place. Type in a topic — any topic — and you'll get a narrated, multimedia tour of the subject. The site's visual interface is its most obvious breakthrough. As Co-founder Doug Imbruce sums it up: "We think in the future information becomes an experience that you watch, today, everyone is absolutely overwhelmed with information. We need to simplify."
2. Tweetbeat – founded in 2005 and raised $55 million in capital. Twitter now has 90 million tweets per day flying through the site. How do you sort the important ones from the noise? Enter Tweetbeat that monitors Twitter to spotlight the top trending stories. Contextual data-mining technology highlights the most important tweets. The site is one of a handful of companies Twitter has granted direct access to its real-time "firehose" of tweet data. The site is ideal for high-profile events like an Apple keynote or a TV series finale, when thousands of users chime in at once on a topic. A graph tracks tweet volume along a timeline, and a reply feature lets users "rewind" and view tweets at and around pivotal moments. It was acquired by AOL on Tuesday.
3. GameCrush – Headquartered in San Francisco and in existence since 2008, "It's a site where guys pay to play video games with girls" is how the co-founder, Eric Stasser, put it. It's a Web axiom that games and dating sites are two of the three proven online money-making business models, and GameCrush teeters on the edge of plunging straight into the third. When it launched in March the site crashed as a result of too much traffic. They redesigned the site from scratch and launched again on Monday.
4. Lark – from Menlo Park California, founded in 2009. In a sea of software startups, Lark stood out by having an actual product to pitch. The company takes aim at a universal problem: dueling alarm clocks. When your roommate or spouse wakes up earlier than you do, their alarm is going to jolt you awake too. Repeatedly, if they're a snooze-button abuser. Developed by engineers from MIT and Stanford, Lark's alarm-clock replacement system relies on two elements, your iPhone and a custom wristband. You park your iPhone in Lark's dock, and when your alarm rings, the wristband silently vibrates to wake you up. No noise and without waking up the spouse. Like something they used in the movie "Our Man Flint" in 1966.
5. Gild – by Pac labs in San Francisco. In existence since 2003, it has raised $10 million in venture capital. Gild offers candidates — mainly programmers — contests and puzzles designed to show off their coding skills and creativity. The site is free for job hunters, and offers some flashy prizes to those who emerge victorious from its challenges. Right now, Harrah's casino is sponsoring a free two-night stay in Las Vegas for the winner of a Java knowledge quiz, for example.
6. Voxy from New York City is the newcomer. Founded in Feb. 2010 with $600,000 in capital, Voxy uses smartphones and the Web as its platform for serving up games and news stories linked to translation tools. The idea is to make learning a new language fun and contextual. Language textbooks are boring, Voxy founder Paul Gollash believes, the best teacher is everyday experience.  Voxy is focusing its first efforts on Spanish speakers trying to learn English, because that's where Gollash sees the most urgency.
Image thanks to Manybody