When you're trying to choose a payment gateway provider, all the choices can be overwhelming. There are some great companies out there, all offering
a variety of products, options, and packages. It can be hard at first glance to tell what the pros and cons of are for each.
This post will go through what features to look for when you're shopping for a payment gateway. Then we'll compare some of the most popular, best payment gateways so you can narrow down your choice.
What to Consider When Choosing a Payment Gateway
When you're choosing a merchant payment gateway for your business, there are a number of important factors to consider. These include:
Security:When you accept online payments, and routinely process other types of card not present transactions, security has to be a top priority. Thankfully, the major payment gateways are PCI-DSS compliant, meaning they comply fully with PCI standards.
Cost: Some payment gateways might have more features, but cost more. Make a list of the features that are must-haves for your business, such as the ability to accept foreign currencies or mobile payments. That way, you'll narrow down your search right away only to the providers that offer those features, and can whittle it down further based on cost and other factors. Also look for flat-rate pricing and easy to understand terms, so you always know what to expect.
Compatibility/Payments Accepted: Different gateways allow you to collect different forms of payment, depending on what kind of POS terminal you have. Some allow you to accept foreign currencies. Many now include compatibility for mobile payments on Apple and Android devices. Decide what payment features and what level of compatibility your business demands, and go from there.
Contract Details: This one is very important but often overlooked. Many people don't read their contract fully before signing, which can get you hit with cancellation penalties, hidden fees, and long contracts that lock you in for a year or more.
Customer Support: Customer support is another huge factor. Look for 24/7 support that includes both telephone support and a chat feature. If your system goes down, you need to make sure you get it back up and running as soon as possible. Top-notch support will ensure that you don't lose tons of revenue as soon as there's any problem or glitch.
Top Payment Gateway Pros & Cons
Now, let's get into some of the top payment gateway providers and do a deeper dive into some of their pros and cons.
Authorize.Net Pros & Cons
Is Authorize.Net a good credit card processor? The short answer is, yes…if you can afford it. Authorize.Net is a payment gateway that comes with many features, but also has a slightly hefty price tag. However, their security is excellent, which adds a lot of value to their offerings. One of the main downsides of Authorize.Net is that it doesn't allow you to process cards in person. Therefore, it is only a viable option for ecommerce merchants who take payments exclusively via card not present transactions.
If you run an e-commerce website with no need for an in-person POS terminal, Authorize.Net might be a great choice. If you run a physical store, however, in-person payment methods aren't supported.
While their security is top-notch, the added cost probably isn't worth it for low-volume merchants. If you own a small brick and mortar business or run just a small to mid-size online store, you might be better off with a different provider—one that is less expensive but still offers industry-standard security or supports card present transactions.
Braintree Payment Solutions Pros & Cons
Braintree Payment Solutions has a lot going for it, but a few flaws as well. For one, their customer support has gotten a lot of complaints from merchants who have attempted to sign up, then were rejected or locked out of their system due to potentially fraudulent activity. While this is an attempt to protect merchants on Braintree's part, it can cause a very frustrating issue for merchants who are missing out on revenue while the problem gets resolved.
One main advantage to Braintree is that they are owned by Paypal. Once Paypal bought them, they were able to offer more payment features, more foreign currencies, and better security. However, alarming reports of Braintree keeping money after closing customer's accounts have damaged their reputation among e-commerce business owners.
PayPal Pros & Cons
Despite the fact that PayPal owns Braintree, PayPal itself offers its own online payment gateway and merchant account services. One major con is that PayPal doesn't offer as much in the way of card readers, so they might not be the right choice for a brick and mortar store. For e-commerce merchants, however, there are some plusses and minuses.
One major advantage to PayPal is how quick and easy it is to get started. Customers also recognize and trust their brand. PayPal's payment processing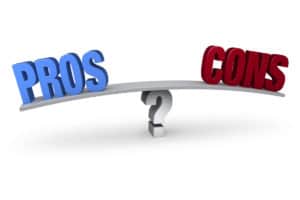 service can be seamlessly programmed into your existing website via an API, making setup a breeze.
Keeping customers on your site throughout the checkout process is much better for retention, conversion, and brand trust. However, this payment service requires a subscription to "PayPal Pro," which costs an additional $30 monthly fee.
There are some other disadvantages to PayPal. For one, customer support has not been known as their strong suit. Also, foreign transaction fees are high, so if you have lots of overseas customers, you might be able to find better rates with another provider. PayPal's card readers are also much more expensive than some of their competitors. The good news is, PayPal's pricing structure is very clear and consistent, so you know what to expect from your bill.
Stripe Payments Pros & Cons
Stripe is a great merchant account and payment processing provider with easy setup and very reasonable fees. Their card readers and other POS equipment also come at a lower cost than competitors like PayPal. It has scored high marks from small business owners and merchants who frequently transact internationally, and comes with a full suite of features depending on your needs. Stripe's fees are reasonable and predictable, with fair and honest contracts.
There are many supported payment options, and integration with many international currencies. Stripe also has 24/7 customer support, with a phone number and a live chat option. Support whenever you need it is a huge plus.
For one potential downside, Stripe has many former customers whose accounts were frozen or terminated due to suspicious activity. Customers who have left bad reviews are usually those who this happened to. Other payment processors (including PayPal) have the same problem, however, so it isn't unique to Stripe. Still, it can be crippling for your business.
As a final note, Stripe is an extremely versatile and in-depth solution with tons of features. If you need them, it might be your perfect merchant e-solution. But if you don't need the bells and whistles, you might be able to get a better value from an alternative provider.
PayTrace Pros & Cons
PayTrace hasn't gotten as much media attention as brands like PayPal and Stripe, but make no mistake: it's a very formidable competitor. Its main disadvantage is that under their Basic plan, the fees per transaction are quite high. It also doesn't come with a merchant account, but integrates well with most online shopping carts and merchant account providers. As far as their contracts, you can opt for a very flexible month-to-month plan with no long-term commitment.
There are other advantages to PayTrace. For companies that do business-to-business sales, PayTrace offers Level II and Level III credit card data. This offers a higher level of security for credit and debit cards. Their customer support is also solid. They're an excellent option for large businesses, B2B merchants, and even financial institutions.
Final Thoughts
Finding the right payment gateway is just a matter of figuring out your needs, then finding the option with the best value that meets them. Fancy features sound alluring, but if you don't really need them, you might be better off going with something simpler. Take your time to shop, and always
read legal documents from beginning to end before you sign to avoid long-term contracts and hidden fees.
Choose the wrong partner, and it could turn out to be a very expensive mistake! Choose the right one, and you'll be doing better business for years to come.